Welcome Fellow Seekers… Are you searching for a point of light in this perception of chaotic energy?
How can Austin's Crystal Whisperer contribute?
Are you awakening to a new level of contribution in the world & need more tools and guidance to unveil what you desire to present in the world?
Do you desire assistance bringing your subconscious soul knowledge to your conscious awareness?
A deepening of your intuitive skill.
Are you in need of gentle, yet firm and loving support and guidance as you move into a greater vibration of your soul?
If this calls to you, then e-mail Dianna to set up a time to CHAT and explore co-creative choices to further your journey. Program outline & fees will be available once custom choices have been selected. * See a few sample possibilities below.
Crystals 101 – Choosing…Use & Loving Care for Crystals. You are invited as we journey through the enchanting world of CRYSTALS!
Discover…
Crystals & Energy
The importance of clearing/cleansing crystals & various methods.                                                                                                                                                                                                      Crystal Forms
Activation & Protection/Grounding
Crystals, more than beauty. Using crystals as a tool~ "charging" or programming.                                                                                                                                                                                               Tuning into our "Crystal Friends" and Much More!
For More Information and to Register for the 8/4/19 class: http://www.secure-booker.com/AceofCups/ClassSchedule/ClassSchedule.aspx
Crystal Land…A family workshop hosted by Dianna, Austin's Crystal Whisperer & Nature's Treasures of Texas.                                                                                                                                                                                                                        Fascinated with crystals? Enjoy crafts & activities which provide an introduction to crystals; their care and use, and create your very own piece of jewelry with a basic wire wrapping lesson!
For More Information and to Register for the 7/19/19 class:https://ntrocks.com/upcoming-events/crystal-land
Awakening To Your Intuitive Creative Vibration
Identify your natural intuitive style/gift
Outline Divine helpers and guides who work to help you create and make your life flow in grace and love.
Practice various techniques to connect to your Divine helpers and guides.
Basic techniques to explore and work with your feminine creative energy.
Understand and support your soul's anatomy through the chakras and grounding
Leave the ordinary life and begin an extraordinary one!
Live an authentic spirited life.
C0-Creating Your Abundant World                                                                                                                                        ~Journey into the world of manifesting. Learn various techniques to creating an abundant life!
Introduction to Grounding & Protecting Your Energy                                                                                                               ~Explore a variety of methods for grounding and protection.
Personal Altars                                                                                                                                                                                     Making your personal altar(s) to create sacred space is a spiritual practice that will deepen your connection to the Divine
Explore themes(seasonal, chakra, love, crystal etc.)
Explore intentions for creating a personal altar(healing, manifesting, meditating, creating rituals, and so forth).
Please pass this information on to someone you feel might benefit. If you refer someone to this program, you will receive a FREE crystal spiritual intuitive reading by phone as a thank you!
---
ONGOING ACTIVITIES – Crystal Personal Shopping Sessions & Gratitude Box Celebration…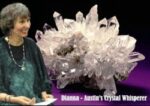 Join Austin's Crystal Whisperer At Nature's Treasurers. Enjoy a Crystal Personal Shopping Session. Drop by & sign-up, or Schedule Appointment * Check My Calendar for the next appearance.
Crystal Personal Shopper Service
Overwhelmed?
Trying to decide which of the many crystals available is the one for you or that special someone you are gifting?
Looking at several pieces of one crystal family for example, rose quartz, to choose which would be a good vibration for you or that special someone?
Before you purchase bring your selection to Austin's Crystal Whisperer.
Dianna will tune-in to discover which crystals are ready to create/be with you or the person you are gifting, and what they offer toward co-creation.
Already have your crystals? **
Bring them along for a Crystal Personal Shopper session with Austin's Crystal Whisperer, and explore their "unique crystal personality".
**Please clear your crystals before your session. If you don't have a favorite method here are a few suggestions with the exception of Vogel crystals:
Place crystals in the moonlight for 24 – 48 hours.
Place crystals in a non-plastic container with very fine play sand (available at craft or home improvement stores) that has been strained after purchase to remove anything that might scratch the crystal. Leave in the sand for 24- 48 hours.
Nature's Treasure's Special $1.50 per minute~10 minute minimum.
Gratitude Box Celebration                                                                                                                                                                     Come Celebrate the 2019 Equinox/Solstice As We Honor The Abundance In Life With Our Gratitude Boxes!
WHERE: TBA
WHEN: TBA.                                                        
Energy Exchange: Suggested Sliding Scale $10.00 – $20.00
RSVP to Dianna Bring A Favorite BOX
Candlelight Circle – A taper candle will be furnished, so please RSVP.
Gratitude Box Ceremony –  The Gratitude Box Ceremony will focus on wishes, dreams, and goals that you want to manifest at this time in your life. You may want to cut out pictures, draw your own art, or write words to place in your Gratitude Box. Magazines, index cards, and markers will be supplied. We have until the date of the Solstice/Equinox to add at home to our Gratitude Box.