Live Events & Zoom Classes! *See the 2022 class/event schedule below.  




Live Events Location ~ Nature's Treasures Auditorium.

_________________________________________________________________________________________
Come on out Sunday, 12/4/2022 and bring an unwrapped toy. Young People 17 & under FREE crystal reading. Adults 20 minutes/$20.    Avoid the line~                                                        Email austinscrystalwhisperer@gmail.com to make an appointment.

Crystal Land…A Fun, Interactive Event for the Whole Family!
Ages 5 & Up.
Fascinated with crystals? Enjoy crafts & activities which provide a basic introduction to crystals; their care and use.
EXPLORE…
Atoms, molecules, & crystals, Oh My!
Crystals ~ natural transmitters. How do they work? Explore energy forms working with crystals such as magnetic & sound energy etc.
The importance of clearing/cleansing crystals.
Choosing your crystals.
Crystals, more than beauty. Using crystals as a tool in everyday life ~ "charging" or "programming".
Explore basic wire wrapping! Enjoy connecting/tuning into a crystal, and creating your very own piece of Crystal Jewelry. *Crystals will be available for sale.                             

WHEN: Saturday, July 16, 2022. 2:00 – 4:00 p.m.                                     
WHERE: The Auditorium, Nature's Treasures. 4103 North IH35, Austin, TX. 78722
Energy Exchange: $65 per family (Limit 5 per group). One adult caregiver (18 & over) for each group must be present in the auditorium during the event. *Early bird discount, $55 if paid by July 13, 2022.
Event Includes…
Self-paced hands-on activities.
 1 take-away crystal information sheet per group.
 A tumbled stone from the crystal dig.
Wire for jewelry wrapping activity.
 A mini crystal personal shopping coaching session with Dianna, Austin's Crystal Whisperer to choose 1 jewelry crystal per child in each group. *Crystals are sold separately.
Crystals 101 – Choosing…Use & Loving Care for Crystals.
You're invited as we journey through the enchanting world of CRYSTALS! Ages 18 & Up!
You are invited to join Dianna, Austin's Crystal Whisperer as we journey through the enchanting world of CRYSTALS
DISCOVER…
How crystals work.
The importance of clearing/cleansing crystals & various methods.
How to Activate a crystal, Protection & Grounding, Crystal energy experience.
Crystals, more than beauty. Using crystals as a tool ~ "charging" or programming.
Tuning into our "crystal friends" and Much More!
❖ Handouts & Materials.
❖ A 20-minute individual hands-on session learning and practicing how you tune-in to crystals.
❖ A 20 % crystal discount coupon is included for use during the session.
When: Fall 2022*
Session sign-up starting after lunch at 2:30 p.m.
WHERE: The Auditorium, Nature's Treasures. 4103 North IH35, Austin, TX. 78722
Energy Exchange: $90. Early Bird Special $80 If Paid By…
Welcome Fellow Seekers… Are you searching for a point of light in this perception of chaotic energy?
How can Austin's Crystal Whisperer contribute?
Are you awakening to a new level of contribution in the world & need more tools and guidance to unveil what you desire to present in the world?
Do you desire assistance bringing your subconscious soul knowledge to your conscious awareness?
A deepening of your intuitive skill.
Are you in need of gentle, yet firm and loving support and guidance as you move into a greater vibration of your soul?
If this calls to you, then e-mail Dianna to set up a time to CHAT about the  It's A Vibrational Life! program and explore co-creative choices to further your journey. Program outline & fees will be available once custom choices have been selected. * See a few sample possibilities below.
**Please pass this information on to someone you feel might benefit. If you refer someone who attends a class in this program, you will receive a FREE 15-minute crystal spiritual intuitive reading by phone as a thank you! ($33.75 value)
Awakening To Your Intuitive Creative Vibration
Identify your natural intuitive style/gift
Outline Divine helpers and guides who work to help you create and make your life flow in grace and love.
Practice various techniques to connect to your Divine helpers and guides.
Basic techniques to explore and work with your feminine creative energy.
Understand and support your soul's anatomy through the chakras and grounding
Leave the ordinary life and begin an extraordinary one!
Live an authentic spirited life.
Introduction to Grounding & Protection
Every moment of our lives on Earth provides an energy exchange. These exchanges as we go about our days can be uplifting & inspiring or energy draining. In this introductory workshop, we will explore… • Energy Vampires: Who are they? • The Energy Field make-up. • The importance of keeping our Energy Field Cleared and Cleansed. • Simple techniques to practice Clearing & Developing Boundaries. • Connecting with Protective & Healing Allies • Crystals for protection & support. • Cleansing Your Space. This workshop is a wonderful companion with the "Awakening to Your Intuitive Creative Vibration" workshop as you begin the amazing journey into the world of your, "Vibrational Life"!
Personal Altars
Making your personal altar(s) to create sacred space is a spiritual practice that will deepen your connection to the Divine
Explore themes(seasonal, chakra, love, crystal, etc.)
Explore intentions for creating a personal altar(healing, manifesting, meditating, creating rituals, and so forth).
Co-Creating Your Abundant Life!
Journey into the world of manifesting. Learn various techniques to create an abundant life!
ONGOING ACTIVITIES – Crystal Personal Shopping Sessions…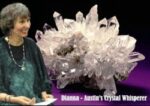 Join Austin's Crystal Whisperer At Nature's Treasurers Via Zoom or Phone, or in-person the last Sunday of each month to do a "Walk Through" session. Enjoy a Crystal Personal Shopping Session by clicking
Schedule Appointment  
*, or Email Dianna at
austinscrystalwhisperer@gmail.com
Crystal Personal Shopper Service
Overwhelmed?
Trying to decide which of the many crystals available is the one for you or that special someone you are gifting?
Looking at several pieces of one crystal family, for example, rose quartz, to choose which would be a good vibration for you or that special someone?
Before you purchase bring your selection to Austin's Crystal Whisperer.
Dianna will tune in to discover which crystals are ready to create/be with you or the person you are gifting, and what they offer toward co-creation.
Already have your crystals? **
Bring them along for a Crystal Personal Shopper session with Austin's Crystal Whisperer, and explore their "unique crystal personality".
**Please clear your crystals before your session. If you don't have a favorite method here are a few suggestions with the exception of Vogel crystals:
Place crystals in the moonlight for 24 – 48 hours.
Place crystals in a non-plastic container with very fine play sand (available at craft or home improvement stores) that has been strained after purchase to remove anything that might scratch the crystal. Leave in the sand for 24- 48 hours.
Nature's Treasure's Special ~ $2.00/per minute during the first 10 minutes. $2.25/per minute for each additional minute. Gifting crystals? Personalize your gift with a recording that highlights how the crystals will help/work with the individual you are gifting.